PACKAGING & ACCESSORIES
For our customers' convenience, we offer a wide range of packaging and accessories to help you serve and store our ice cream, gelato, sorbet, and other frozen products.

Low MOQs

Variety of products

One-stop solution
Our commercial waffle cones and waffle bowls are the perfect complement to our artisanal ice cream and gelato. These high quality cones and bowls have a crispy texture. They are available in different sizes and quantities, and are ideal for a variety of commercial settings.
PAPER ICE CREAM CUPS & SLEEVES
In addition to cone sleeves, we offer paper ice cream cups in mini, small and other sizes for serving our ice cream, gelato and sorbets. They provide a convenient alternative to waffle cones and bowls.
In addition to our pre-filled ice cream cups under our Artisertz brand, Oishi offers a range of disposable paper ice cream cup packaging, providing customers with flexibility and versatility.
Oishi also provides customisation and OEM services. Elevate your brand as we customize mini ice cream cups, small ice cream cups and with your logo, colours and messaging. Whether you decide on ice cream, gelato or sorbet, your signature cups will make a statement about your brand. [See our OEM page for more details on customised packaging.]
ICE CREAM GELATO PANS & TUBS
We provide a range of durable gelato pans and tubs that come in various sizes and are freezer-safe, allowing you to display your ice cream while keeping them fresh. Designed to meet the needs of small business owners and large-scale manufacturers alike, our gelato pans and tubs are a must-have addition to any businesses serving frozen desserts.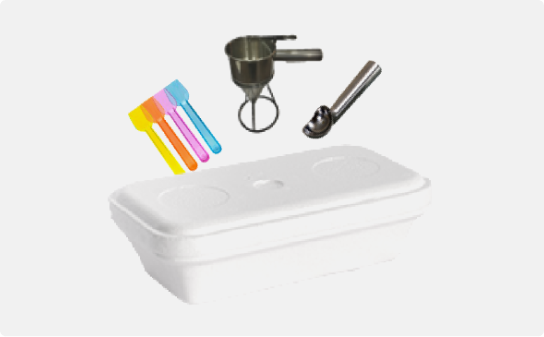 TAKE AWAY OPTIONS & OTHER ACCESSORIES
Also available are take away foam boxes and other accessories that provide a convenient solution for serving and transporting your ice cream and gelato. Our foam boxes come in various sizes and shapes to meet your specific needs, while other accessories such as ice cream scoops ensure easy and efficient serving.